---
Background
The ESNO information and communication guide on Microbes explains all about nurses to know about microbes, medication, infection control and vaccination. This needs a regular update especially in today's times. The update will then be published per chapter or theme, with references, hyperlinks including the person who contributed.
Due to delay of process caused by current COVID19 issues, UPDATES are published below, to include in Module in later stage, see below..
---
About this Module
you will understand how to prioritise activities on infection control and prevention within
healthcare settings. You will know about the chain of infection, and the principles of
hygiene. You will understand how hand hygiene and personal protective equipment safeguards both patients and healthcare professionals, and know about the role of aseptic no-touch techniques. You play a critical role in infection control, both through
practical roles, and as educators for healthcare professionals, patients and carers
---
CLICK ON IMAGE FOR MODULE 4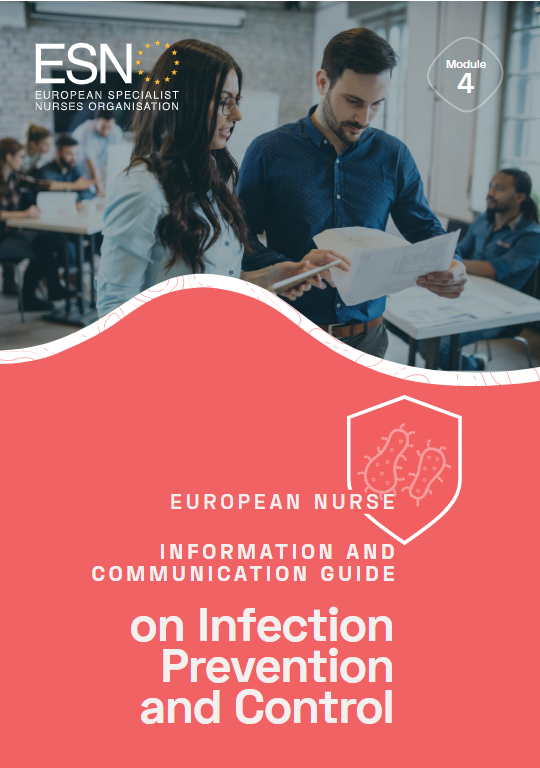 In this PART – II we are going to work on a Curriculum for Infection Prevention Control added competence in your nurse practice.
If you wish to engage in this project, or are inetested to join the work or having suggestion, please contact us at secretariat@esno.org
Full text All about PPE's Noel Abela
Sampling techniques, nasopharygeal
---
---
New insights
To include in revised module:
– How to perform a nasopharyngeal swab
– Other sampling techniques
– The role of the nurse in the assessment of the wound
– Transmission by aerosols, the rational use of masks, and protection of healthcare workers – different types of masks, cloth masks to include in the PPE section.
– Negative-pressure ventilation isolation rooms – Transmission of aerosols (Chain of Infection)
– Practical Steps to Improve Air Flow in Long-Term care resident and schools to reduce virus spreading and infection Risk
– Virus management at home: distance from other family members, use individual cutlery and dishes, bathroom.
– About social distancing in hospital and community
– Role of nurses in educating the population in the use of masks and gloves and the principles of health
– Products that are used for hand hygiene – what are effective etc.
– Children swab: techniques and attitudes. Doing swab test for sampling from children can have great negative impact. There are local innitiatives for special programs such as 1) smaller sticks, 2) less deep, 3) only throat, 4) taking more time, 5) presence of parent, 6) help children to open mouth wide and look up (and point at bird at the ceiling), 7) reward with modest token (e.g. balloon, certificate of bravery). We need collection of examples.
On:
– Other sampling techniques
– The role of nurse in the assessment of the wound
– About social distancing in hospital and community
– Literature
Link to document
---
# 2
---
# 3
<coming up soon>
---
LINK TO RELEVANT ORGANISATION
https://vaccinationdemandobservatory.org/
https://vaccinemisinformation.guide/
---
UPDATE TO INCLUDE TO MODULE
………
---
PRESENTATATION COVID19 WEBINAR 16 – 17 OCTOBER 2020
---
LIST OF CONTRIBUTORS
Noel Abela
Tihana Gaspert Batrnek -MSN at KBC Rijeka Assistant at Sveučilište u Rijeci / University of Rijeka
Rebecca Faerna Cachia
Ber Oomen
…..