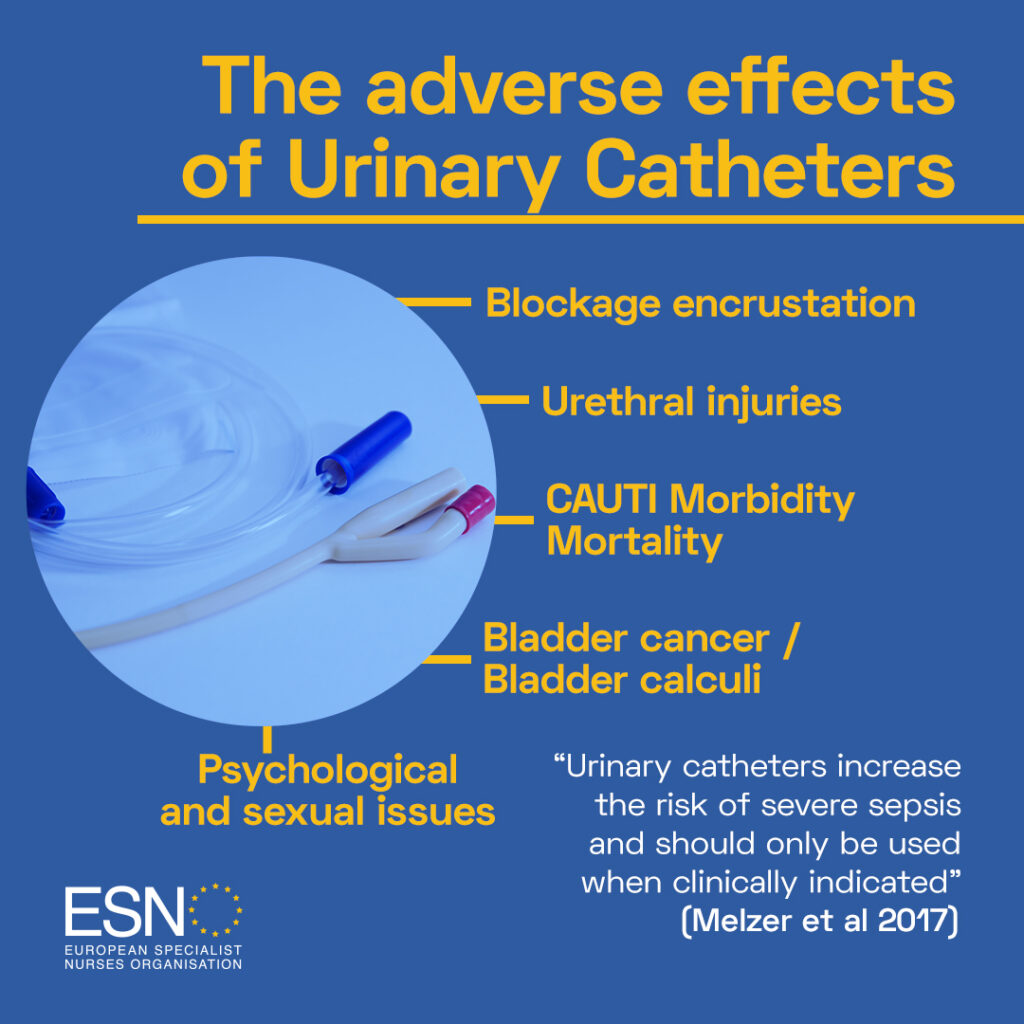 Webinar CAUTI – organised by ESNO and AMR Focus group
More than ever, the awarenss on infection prevention has raised great relevance for the nursing profession in all health domains. For this reason this webinar is organised for nurses in Europe.
Some background information
The definition of catheter-associated urinary tract infections (CAUTI) according to the CDC is a UTI where an indwelling urinary catheter was in place for more than two calendar days on the date of event (day 1 being the day of device placement). Catheter-associated urinary tract infections (CAUTI) are the most prevalent health-care associated infections (HAIs) accounting for one third (27%) of HAIs in developed countries according to the ECDCs annual report from 2008. The attributable mortality of CAUTI is low but the high frequency of catheter use in health care settings resulting in CAUTI, means that the burden of CAUTI is substantial with regard to prolonged hospital stays and increased antibiotic use. According to European studies, 15-25% of hospitalised patients and 5% of patients in elderly homes have a urinary catheter. More studies estimate that 41-58% of catheters in place are probably unnecessary. @source ECDC
Date: 1 June 2022 .
Time: 19.00 – 20.00 CEST.
Title: Catheter acquired Urinary Tract infections (CAUTI): Cause, Impact and Prevention
Speakers: Jeanette Verkerk, Laura Ros, Eva Wallace and Noel Abela.
Goal: share the knowledge on infection tract prevention in catheterisation, proper indications on use of indwelling catheters, placement and maintenance of indwelling catheters
Aims and objectives:
Learn about the prevention of urinary infections in patients with indwelling catheters who are hospitalised.
Learn about proper indications for indwelling catheters
Learn about hygienic maintenance of indwelling catheters
Health care providers, (specialised) nurses and Nurse Practitioners have knowledge about prevalence and incidence of Indwelling catheters in hospitals and CAUTI. Know how to prevent CAUTI and unnecessary indwelling catheterisation in hospitalised patients.
This event is accredited by EU-ACNE
Draft Programme: DOWNLOAD PDF
All PowerPoint presentations
ALL VIDEOS
SESSION – 1- NOEL ABELA: STATISTICS AND FACT
SESSION – 2- LAURA ROS: GUIDELINES
SESSION – 3- EVA WALLANCE: MAINTENANCE
SESSION – 4 – NOEL ABELA: TREATMENT
---
FOUR SHORT INSTRUCTION ON CAUTI
This is event is made possible by the sponsoring support of HARTMANN